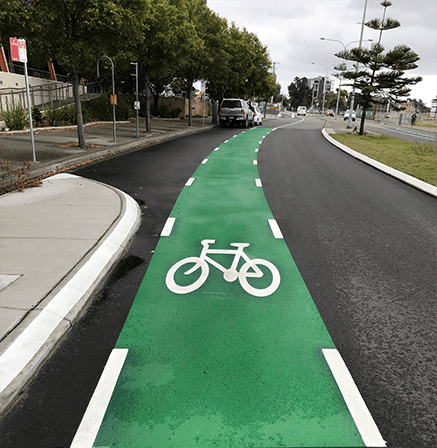 Up until recently, installing High Friction, Cold-Applied-Plastic Surface Coatings has been a very time-consuming and labor-intensive task. In order to achieve acceptable Skid Resistance Values and Product Life, by traditional application, a very specific procedure had to be followed;
The process requires a large crew pouring, spreading, and rolling one layer of binder onto the surface in a timely manner. Once this layer was spread evenly, and before it cured, an aggregate (commonly Bauxite) was applied. The crew then have to wait for the binder to cure, before finally applying a top coat of CAP to seal in the aggregate.
Even when the procedure is followed perfectly, there are still inherent issues.
Due to so much of the process being controlled by people, quality results vary greatly.
The most common problem is the aggregate ending up in patches across the coating, leaving some sections very slippery in the wet.
The other common issue is as the topcoat is worn down, the buff colour of the aggregate is exposed, changing the appearance of the coating prematurely.
Enter Colourcoat.
Utilising a system that has been developed in Europe though years of R&D, we use a three part cold applied plastic with homogenised aggregate.
This is all mixed at the head of the nozzle, then applied to the surface by spray, giving the most uniform finish possible – this uniformity is key in delivering true and lasting anti-skid properties.
Quartz is used as an aggregate, so that as the coating wears throughout its functional life, the colour of the coating remains the same.
Apart from the increased lifespan, one of the biggest advantages of Colourcoat's system, is the speed of delivery.
Per crew we can comfortably apply over 300 square meters per hour. This is about 3-4 times greater capability than traditional application. What this means for you, is roads and traffic are disrupted for less time and projects are completed sooner.
We look forward to joining you in making roads safer.
Please click to download brochure of BAST Test Explanation