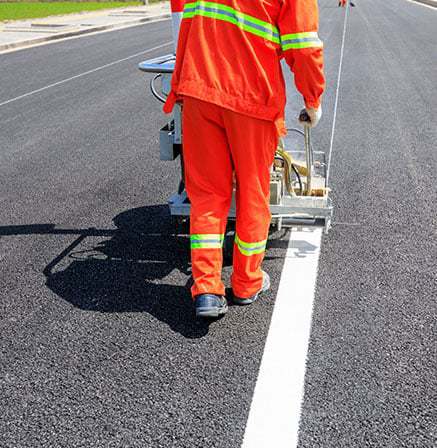 When it comes to road safety in Australia, line marking and on-road signage play an important role. We need our road lines to be high-quality, highly visible, hardwearing and durable, ensuring they can be seen in all conditions without the need for extensive maintenance.
Cold Applied Plastic – or CAP – is one of the preferred methods for line marking because it meets all these criteria and more. At Colourcoat, we offer the finest Cold Applied Plastic line marking solutions for a wide range of roads and surfaces. As well as this, we pride ourselves on providing coloured surface coatings that safely delineate bus and bicycle lanes in line with NSW specifications.
Cold Applied Plastic line marking has a range of features that make it ideal for our roads. CAP boasts excellent visibility and durability, withstanding consistently high traffic conditions without the need for maintenance. CAP is also a low abrasion material and is highly skid resistant.
One of the main advantages of Cold Applied Plastic is its adaptability to different climates, meaning it can be applied to surfaces and withstand scorching heat, pouring rain, and even snow and sleet.
Cost-effective, environmentally friendly, and offering retroreflectivity as required, Cold Applied Plastic can be applied rapidly on roads, cycleways, car parks, shared pedestrian zones, and more.
Contact us to learn more about our Cold Applied Plastic coating and our Cold Applied Plastic line marking services.
Coloured Surface Coatings
As well as CAP line marking, Colourcoat can assist you with coloured surface coatings. This makes our Cold Applied Plastic surfaces ideal for cycleways or bus lanes, which are safely delineated by using different colours.
Colourcoat's CAP surface coatings meet R110 coloured surface coatings specifications and all other relevant standards and road safety rules.