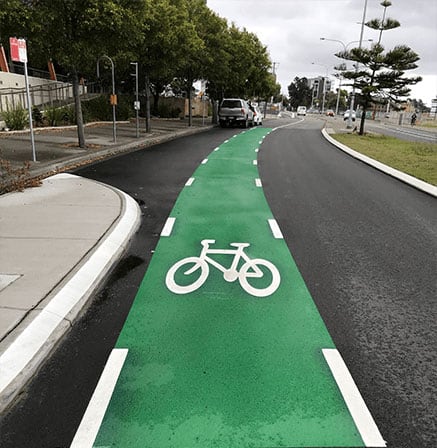 Bike Lane Marking
Get durable bicycle lanes with high friction surfaces and clear lines. At Colourcoat, we only use the best bicycle lane marking equipment and the highest quality road coating products available. With brands such as Geveko and an experienced team, Colourcoat can produce brilliant, high visibility results for you.
We take our responsibilities seriously when it comes to making Australian roads safer for everyone. Colourcoat complies with New South Wales R110 specifications on-road cycleways, and R141 specifications for pavement-based cycle paths.
We are proudly accredited through the Painting Contractors Certification Program (PCCP) and are constantly updating our knowledge of the latest bike lane marking industry standards and innovations.
Shared Path Line Marking
Nothing is more important than safety for all road users. That's why we use only the clearest and most durable paint to create shared road and shared path line markings. We apply longitudinal and transverse road and line markings, specialising in non-toxic waterborne paint, fast-drying thermoplastics, and durable, high-traction cold applied plastic (CAP).
CAP is an increasingly popular choice for cycleways and bicycle lane marking. Its high visibility and ability to withstand high traffic conditions are complemented by low abrasion characteristics. Another advantage of cold applied plastic is its adaptability for different climates.
To speak to a member of the Colourcoat team about bike lane marking, call us today. Phone 1300 260 000 to find out more.